Pros
Wide and lively audience ready for communication
Android and iOS mobile apps with all the necessary functions
Simple design and convenient interface
Usefull matching engine
Good opportunities to look for man or woman regardless of your gender
Cons
Very, very, very bad reviews from users. Perhaps, the worst reviews ever.
Tons of spammy profiles
There are real doubts if the intention of most women as are serious as they declare
It may be not expensive to buy credits here but you will be charged for almost any action.
Quick Summary
Amolatina may be a good place for pleasant communication but there are very few chances that you will be able to build serious relations with girls from this platform. Even despite the fact that here your choice will not be limited, there are crucially bad reviews from users. Surely, it is up to you to try it or not but be sure to manage your money wisely while staying here.
Full Amolatina Review
Finding your soulmate online is not a big deal today. However, finding a reliable place to look for her is still a big deal. That is why you should find out what awaits you on this or that online dating website before making the final choice. We have compiled this Amolatina review to facilitate this task.
Amolatina Audience
Amolatina unites a fairly wide target audience. This site is available for both men and women, as its primary goal is to allow a man from North America to meet a girl from Latin America.
However, once you sign up, you will see that alternatives are also possible. Inside the site, you can search for both men and women, regardless of your gender.
The ratio of men and women on this platform is quite equal. The largest number of users is about 30 years old. As for the purposes of registration, in their majority users want to get to know someone for easy communication and unobtrusive relationships that have a chance to turn into serious ones.
Signing Up at Amolatina
The registration form is very simple. You just need to press the button Sing up with Google to be taken to the website automatically. After that, you will be able to navigate the site and even change the preferences you have indicated before the registration.
Pay attention! The confirming email is likely to be redirected to the Spam folder. This means that in Google's opinion the website is not reliable and doesn't pass spam tests.
By the way, prepare to get instant messages from the users after several seconds of staying on the website. Even if your profile is completely empty, and only your name is visible. This may indicate that the website hosts some bots who are bombarding you with messages to make you pay for them.
Design and Usability
As for design and usability, it is very simple and convenient. In fact, the main features you need to get started is searching for candidates and messaging. These two features are just in front of your eyes each time you log in to the site. The developers used white and red colors to enhance the romantic mood but stay simple.
You may manage your charts on the right, scroll profiles on the left, and use additional features that are located on the top bar.
User Account Features
User account is like a landing page. Even using a free version, you will be able to quickly find out who is before your eyes and whether this candidate is suitable or not. There is a section for writing a short bio, and two sections for photos. You may freely view the photos from the public photos, but will be forced to pay for looking at private photos of a girl.
By the way, the matching algorithm is available for free as well. With its help, you may choose not only gender, age, and location but also specify the main interests of a person you would like to meet here. In general, there are no more features needed to tell about yourself in a few words and find somebody who potentially suits you.
Amolatina Prices
As for the prices, they keep their pricing policy affordable. We may even say that the prices are average or low than average. Here is the 2020 price list.
However, do not rush to rejoice too much. Just one message (both sent and read) costs 10 credits, so with active communication, they will fly away quickly enough.
FAQ
However, there are a few more issues that we want to discuss with you. And some of them are not very pleasant.
Is Amolatina a Scam?
Let us tell you the following – it all depends on your goal. If you want just easy communication and attention from beautiful girls, then you will get it here in full. However, user reviews are alarming.
If you compare Amolatin with other dating platforms, then this platform has almost the worst reviews from users. Almost all users write the same thing – these girls will communicate with you indefinitely, but will never come to a real meeting.
As for video calls, users also note that the ability to speak in a voice is not available – you can only look at each other and continue to write messages. At the same time, the girl can simultaneously communicate with several other men.
Some users say that it's possible that these girls were just hired and get money for talking with you. Of course, the longer your conversation the better (for them – since you continue spending your money).
Is Amolatina Safe?
Fortunately, Amolatina was not seen in any precedent regarding user data. The site team assures that all the interaction that takes place here is safe and secure. Moreover, it is imperative to use your real name and email address. However, it is not required to undergo any additional identity checks – that is, it is implied that you are an authentic user a priori.
Does Amolatina have a mobile app?
Yes, Amolatina has an application for Android and iOS users, but even working with the site in the mobile version is quite convenient.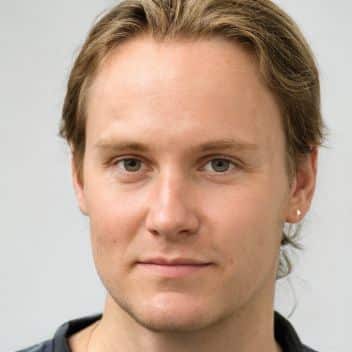 John Braxton is a project manager who successfully completed 15+ projects for the online dating industry. Without a doubt, he knows everything about web dating projects – from the technical development process to marketing, psychology, and security. He has his own criteria for determining the reliability or inadequacy of a dating platform, and his evaluations are based on purely practical insights as well.